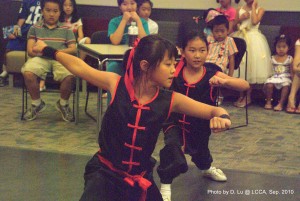 Dear All Friends,
Wel­come to sign up the fol­low­ing sum­mer camp for kids:
Sum­mer Fun in Chi­nese Cul­ture
中國民俗舞蹈 武術 中國民俗體育
Date: June 24–28, Monday-Friday;June 29, Sat­ur­day Per­for­mance
Time: 9am-4pm
Loca­tion: UNL cam­pus
Grade: K-12
Fee: $100 per stu­dent (lunch/snack include)
Lin­coln Chi­nese School is host­ing one week-long sum­mer camp in appre­ci­a­tion of Chi­nese Cul­ture dance and mar­tial art. Class­es are taught by two cer­ti­fied cul­tur­al teach­ers direct­ly sent from Tai­wan. The stu­dents will be able to learn Chi­nese Yo-Yo, mar­tial art, fan dance, rib­bon dance, etc.
Space is lim­it­ed. Please con­tact Coral Su (402) 440‑0533; csu@lps.org
Best Regards,
Lin­coln Chi­nese Cul­tur­al Asso­ci­a­tion (林肯華人文化協會)