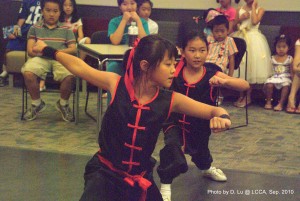 Dear All Friends,
Welcome to sign up the following summer camp for kids:
Summer Fun in Chinese Culture
中國民俗舞蹈 武術 中國民俗體育
Date: June 24-28, Monday-Friday;June 29, Saturday Performance
Time: 9am-4pm
Location: UNL campus
Grade: K-12
Fee: $100 per student (lunch/snack include)
Lincoln Chinese School is hosting one week-long summer camp in appreciation of Chinese Culture dance and martial art. Classes are taught by two certified cultural teachers directly sent from Taiwan. The students will be able to learn Chinese Yo-Yo, martial art, fan dance, ribbon dance, etc.
Space is limited. Please contact Coral Su (402) 440-0533; csu@lps.org
Best Regards,
Lincoln Chinese Cultural Association (林肯華人文化協會)