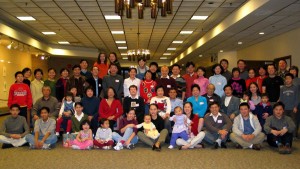 In 2002, a group of Lin­coln res­i­dents with Chi­nese eth­nic­i­ty rec­og­nized that the city has reached a siz­able pop­u­la­tion of Chi­nese res­i­dents and the tim­ing was right to cre­ate an orga­ni­za­tion to pro­mote and cel­e­brate their Chi­nese her­itage.? This group includ­ed aca­d­e­m­ic, busi­ness and com­mu­ni­ty lead­ers.? The core group had a pas­sion for com­mu­ni­ty ser­vice and a love of the Chi­nese cul­ture.? After many meet­ings a char­ter for the orga­ni­za­tion was for­mal­ized and the Lin­coln Chi­nese and Cul­tur­al Asso­ci­a­tion (LCCA) offi­cial­ly launched on?January 21st, 2002.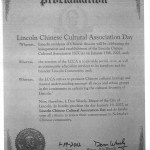 Over the past ten years the lead­er­ship of LCCA has sus­tained the orga­ni­za­tion well through the con­stant pro­mo­tion of Chi­nese cul­ture.? LCCA has ben­e­fit­ed from the sta­bil­i­ty of this lead­er­ship group and the con­tin­ued sup­port of its mem­ber­ship.? In 2012, as the LCCA cel­e­brates its 10thanniver­sary, it achieved a fur­ther mile­stone by offi­cial­ly reg­is­ter­ing as a 501© 3 non-prof­it orga­ni­za­tion to bet­ter serve its mis­sion.
2002年,一群在內布拉斯加州林肯市的華人意識到,這城市的華裔人數斐然達到了一定的規模,正是創建一個服務性組織來促進和發揚中國傳統文化的大好時機。這一群人中包括了學術界,商業界和林肯社區的佼佼者,他們都帶著為社區服務的熱誠和充滿了對中國文化的熱枕。在經過多次會議和及組織章程的制定後,林肯華人文化協會(LCCA)于 2002年1月21日正式成立。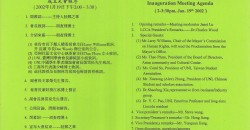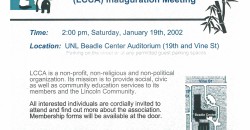 在過去的十年裡,LCCA 得益於穩健的領導群及會員們的熱心支持一直不斷的為推廣中國文化這個目標而努力。今年正值組織慶祝成立10週年之際,LCCA更實現了一個重要的里程碑 — 正式登記成為了一個501(c)3非營利組織以便能夠更好地履行組織使命。
LCCA Founders & Pres­i­dents
As a com­mu­ni­ty orga­ni­za­tion the LCCA rou­tine­ly holds Chi­nese fes­ti­vals relat­ed activ­i­ties such as the Lantern Fes­ti­val Lun­cheon, the Drag­on Boat Fes­ti­val Pic­nic and canoe race and, the Mid-Autumn Moon Cake Cel­e­bra­tion, etc. In addi­tion, the LCCA has held many fun com­pe­ti­tions such as the karaoke singing com­pe­ti­tions, children's tal­ent com­pe­ti­tions, and more recent­ly the Chi­nese cui­sine com­pe­ti­tion.
作為一個社區組織,LCCA經常籌備和舉辦與中國傳統節日相關的活動,如元宵節聚餐,端午節野餐,划舟比賽,和中秋節月餅共享活動等;此外,LCCA也舉辦了許多趣味性的比賽,諸如卡拉OK歌唱大賽,兒童才藝比賽,以及最近的中國美食大賽。
From these activ­i­ties, oth­er inter­est groups with­in the LCCA also began to meet on a reg­u­lar basis for the ben­e­fit of the membership.?Earlier on, groups such as the Chi­nese Lan­guage, Women's and the Chi­nese Clas­si­cal Music clubs were formed. The Clas­si­cal Music Group most notably per­formed pub­licly in Lin­coln, includ­ing a well pub­li­cized joint con­cert with Guzheng vir­tu­oso Mary Li Ma.
從這些活動中,LCCA另萌生了一些會員俱樂部,如早期的國語會話班, 婦女會和中國古典音樂團,這些小組的成員都會定期聚會或組織一些活動和演出。國樂團在林肯並有過一些很精彩的演出,其中包括了與知名的古箏演奏家李馬麗女士聯合舉辦的公開演奏會。
As a leader in pro­mot­ing Chi­nese cul­ture and art, the LCCA has orga­nized exhi­bi­tions and pre­sen­ta­tions on many occa­sions. Sev­er­al in con­junc­tion with the UNL Lentz Cen­ter to show­case Chi­nese arti­facts, cal­lig­ra­phy and pho­tog­ra­phy, and one with the Hay­mar­ket Burk­hold­er Gallery on Chi­nese paint­ings. As patrons of the arts, LCCA has also sup­port­ed group atten­dance for Chi­nese per­for­mances at the Lied Cen­ter such as the Shao-Lin War­riors, the Bei­jing Mod­ern Dance Troupe and the Chi­nese Acro­bats.
作為致力於促進中國文化和藝術的推動者,LCCA多次舉辦相關演說和展覽。其中包括一些與 UNL Lentz Center合辦的展覽,陳列了諸多中國藝術品,書法和攝影;及一次別開生面的中國書畫展也曾經在Haymarket的Burkholder Gallery特別展出。LCCA還多次籌劃了為會員們能優惠購買團體票以觀賞在Lied Center演出的少林武僧,北京現代舞團和中國雜技團的公演。
For its com­mu­ni­ty mem­bers the LCCA often put togeth­er inter­est­ing class­es and use­ful pro­fes­sion­al pan­el dis­cus­sions. Class­es such as Tai Chi exer­cise, the Ball Room Danc­ing class­es and Golf class­es had proven to be pop­u­lar. Pan­el dis­cus­sion sem­i­nars on job inter­view skills for new grad­u­ates, and Senior Club life adjust­ment skills for vis­it­ing par­ents of mem­bers were also prac­ti­cal and well received.
LCCA也經常為其社區內成員提供在一些有趣的課程和實用的專業講座。其中太極拳鍛煉,交際舞學習班和高爾夫球速成班都是比較受會員歡迎的。而針對應屆畢業生工作面試技巧的講座和解決來訪年長家長們適應美式生活的研討會也極為實用,深受大眾好評。
Since its incep­tion the LCCA was for­tu­nate to have many sup­port­ing part­ner orga­ni­za­tions, includ­ing a sym­bi­ot­ic rela­tion­ship with the Chi­nese Stu­dent and Schol­ar Asso­ci­a­tion (CSSA) of the Uni­ver­si­ty of Nebras­ka-Lin­coln, and a spe­cial rela­tion­ship from UNL's Con­fu­cius Insti­tute espe­cial­ly in resources support.?As well, the LCCA enjoys a close rela­tion­ship with Lincoln's Asian Com­mu­ni­ty and Cul­tur­al Cen­ter (ACCC), and the Fam­i­lies with Chil­dren from Chi­na group. And as Chi­nese pop­u­la­tion grow in oth­er cities in Nebras­ka, the LCCA has spurned inter­est and encour­aged the cre­ation of sis­ter orga­ni­za­tions such as the Oma­ha Chi­nese Cul­tur­al Asso­ci­a­tion (OCCA).
自成立以來,LCCA有幸能夠有許多不斷提供支持和幫助的夥伴組織,從存在互助互惠關係的內布拉斯加州大學- 林肯校區的中國學生學者協會(CSSA),到在資源方面提供大量支持和財務幫助以辦好活動的UNL孔子學院,和有著緊密聯繫的林肯亞裔社區文化中心(ACCC),及中國孩童領養家庭組織。另外, 隨著華人在內布拉斯加州其他城市的增長,LCCA還激勵與贊助了其他姐妹組織的成立,如奧馬哈華人文化協會(OCCA)。
GREETINGS FORM OUR PARTNERS
---
Thanks to the lead­er­ship of LCCA com­mit­tee, the sup­port­ing mem­bers and part­ners, the LCCA has been high­ly active in pro­mot­ing Chi­nese cul­ture in the Lin­coln com­mu­ni­ty and is poised for the next ten years!
承蒙多位創辦人多年來不遺餘力的為LCCA作出貢獻, 並感謝會員們一直以來的支持及夥伴組織們的鼎力相助,LCCA下一個十年將會更精彩。