2016 Chi­nese Film Fes­ti­val. Free and open to the pub­lic! Between Sep­tem­ber 30 and Octo­ber 5, Con­fu­cius Insti­tute at UNL will be show­ing three Chi­nese films at the Mary Riep­ma Ross Media Arts Cen­ter (313 N. 13th St. Lin­coln, NE). The three films are Cold War, The Great Magi­cian, and Bei­jing, New York.
Fri­day, Sep­tem­ber 30: BEIJING, NEW YORK @ 8 p.m.
Sat­ur­day, Octo­ber 1: COLD WAR @ 7 p.m.
Sun­day, Octo­ber 2: THE GREAT MAGICIAN @ 1 p.m. & BEIJING, NEW YORK @ 3:30 p.m.
Mon­day, Octo­ber 3: COLD WAR @ 5 p.m.
Tues­day, Octo­ber 4: THE GREAT MAGICIAN @ 7 p.m.
Wednes­day, Octo­ber 5: BEIJING, NEW YORK @ 5 p.m.
COLD WAR (Han Zhan)
Direct­ed by Lok Man Leung & Kim-Ching Luk – 2012 – Rat­ed R – 1 hour, 41 mintues
Syn­op­sis: The mys­te­ri­ous dis­ap­pear­ance of five dec­o­rat­ed Hong Kong police offi­cers leads to a tense game of cat-and-mouse between a bril­liant gang of hijack­ers, and a task force that fails to real­ize the true scope of the sit­u­a­tion. Aaron Kwok, Tony Leong Ka-Fai, and Char­lie Young star in this action-packed thriller fea­tur­ing a spe­cial appear­ance by Andy Lau (Infer­nal Affairs, House of Fly­ing Dag­gers).
The Great Magi­cian (Damo Shushi)
Direct­ed by Derek Yea – 2012 – Not Rat­ed – 2 hours, 8 min­utes
Syn­op­sis: A famous Chi­nese magi­cian attempts to res­cue his fiancée from a pow­er­ful war­lord in this dra­ma set after the fall of the Qing dynasty, and adapt­ed from the nov­el by Zhang Haifan. His coun­try divid­ed in the wake of the Rev­o­lu­tion, famed illu­sion­ist Zhang (Tony Leung) is trou­bled to dis­cov­er that clever war­lord Bul­ly Lei (Ching Wan Lau) is using mag­ic to amass a pow­er­ful army. Even worse, Bul­ly Lei has impris­oned Zhang's for­mer flame, and intends to make her his sev­enth wife. Lat­er, when Zheng's plan to res­cue his love goes awry, the two tal­ent­ed illu­sion­ists face off in the ulti­mate bat­tle of mag­i­cal might.
BEIJING, NEW YORK (Bei­jing Niuyue)
Direct­ed by Rain Le – 2015 – Not Rat­ed – 1 hour, 47 min­utes
Syn­op­sis: BEIJING, NEW YORK is a touch­ing and com­plex love sto­ry that bridges time, dis­tance and cul­ture, inter­twin­ing the lives of two Chi­nese child­hood friends and an Amer­i­can artist. It is set against the back­drop of eco­nom­ic pow­er shift between Chi­na and Amer­i­ca. As the film's com­plex love tri­an­gle takes the audi­ence on a wild ride, inter­weav­ing its way through the plot and each character's unique exis­tence, it ulti­mate­ly forces each of them to face life's eter­nal ques­tions head-on. BEIJING, NEW YORK is a truth­ful and thrilling look into the jour­ney to find true hap­pi­ness and the joy, pain and adven­ture that ensues when one is forced to inte­grate their dreams into real­i­ty.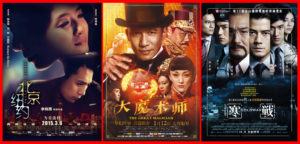 Resource: http://confuciusinstitute.unl.edu/news/chinese-film-festival