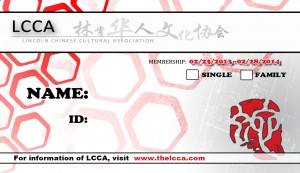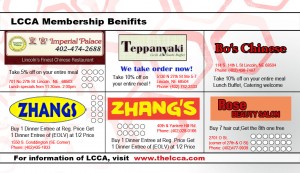 Dear LCCA members and friends,
To celebrate the traditional Lantern Festival, the LCCA is pleased to announce that a lunch party will be held on
Date: February 23. 2013 (Saturday)
Time: 11:30 to 3:30 pm
Place: Imperial Palace Chinese restaurant.
The restaurant will prepare authentic Chinese food for this party. Here is the menu for the lunch party.
汤:老鸭煲
四个凉菜:口水鸡,猪耳朵,卤牛肉,皮蛋拌豆腐
八个热菜:椒盐虾,糖醋排骨,水煮鱼片,椰奶虾,鱼香茄子,宫爆田鸡腿,咖喱牛腩,清蒸鱼,
甜点:蛋糕
We will have prize drawings for 2013 members and lantern riddle guessing game. Please join us for a fun afternoon to celebrate the holiday with your friends and enjoy delicious Chinese food.
The cost is $12 for 2013 members and $15 for nonmembers, children 5-12 years are $10, children 4 years and under are free. Imperial Palace is located at 27th Street and Vine.
Please sign up for this event by sending an email to LCCA@live.com indicating number of people attending. It is very important to sign up so that we can order proper amount of food.
We will be collecting 2013 membership fees at the event. The membership fee is still $20 for a family membership and $10 for an individual membership. This year, the LCCA board has been working hard to add benefits to LCCA members. 2013 LCCA members will receive membership cards that will entitle card holders to receive 5% to 10% discount from several popular local Chinese restaurants.
The Lantern Festival Lunch Party is sponsored by the Confucius Institute at UNL. UNLCI's continuing strong support is gratefully appreciated.
We look forward to seeing you and your family at the event!
LCCA