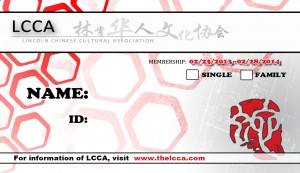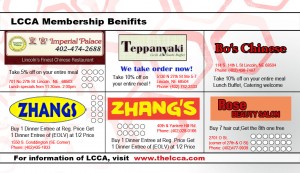 Dear LCCA mem­bers and friends,
To cel­e­brate the tra­di­tion­al Lantern Fes­ti­val, the LCCA is pleased to announce that a lunch par­ty will be held on
Date: Feb­ru­ary 23. 2013 (Sat­ur­day)
Time: 11:30 to 3:30 pm
Place: Impe­r­i­al Palace Chi­nese restau­rant.
The restau­rant will pre­pare authen­tic Chi­nese food for this par­ty. Here is the menu for the lunch par­ty.
汤:老鸭煲
四个凉菜:口水鸡,猪耳朵,卤牛肉,皮蛋拌豆腐
八个热菜:椒盐虾,糖醋排骨,水煮鱼片,椰奶虾,鱼香茄子,宫爆田鸡腿,咖喱牛腩,清蒸鱼,
甜点:蛋糕
We will have prize draw­ings for 2013 mem­bers and lantern rid­dle guess­ing game. Please join us for a fun after­noon to cel­e­brate the hol­i­day with your friends and enjoy deli­cious Chi­nese food.
The cost is $12 for 2013 mem­bers and $15 for non­mem­bers, chil­dren 5–12 years are $10, chil­dren 4 years and under are free. Impe­r­i­al Palace is locat­ed at 27th Street and Vine.
Please sign up for this event by send­ing an email to LCCA@live.com indi­cat­ing num­ber of peo­ple attend­ing. It is very impor­tant to sign up so that we can order prop­er amount of food.
We will be col­lect­ing 2013 mem­ber­ship fees at the event. The mem­ber­ship fee is still $20 for a fam­i­ly mem­ber­ship and $10 for an indi­vid­ual mem­ber­ship. This year, the LCCA board has been work­ing hard to add ben­e­fits to LCCA mem­bers. 2013 LCCA mem­bers will receive mem­ber­ship cards that will enti­tle card hold­ers to receive 5% to 10% dis­count from sev­er­al pop­u­lar local Chi­nese restau­rants.
The Lantern Fes­ti­val Lunch Par­ty is spon­sored by the Con­fu­cius Insti­tute at UNL. UNLCI's con­tin­u­ing strong sup­port is grate­ful­ly appre­ci­at­ed.
We look for­ward to see­ing you and your fam­i­ly at the event!
LCCA